"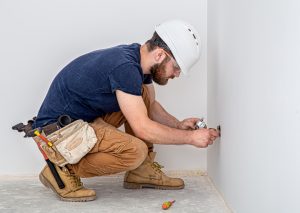 When you need an electrician in your home, business or farm, let our family help yours! We provide a variety of in-home electrical services, including installations, repair, and routine maintenance. Not only do we offer high-quality installs, but we'll also make sure your electrical systems continue to work efficiently and safely."
Electrical installations - Hirt and Ellco specialize in major and minor electrical jobs across all of Southeastern Indiana. Our experienced team is here to assist you with all your electrical needs. In addition, we are proud to offer single-phase and three-phase installations through our professional service team.
Electrical repair - It's too bad walls really can't talk. You never know what you are going to find. Do you have a pesky light flickering in your hallway, a breaker that trips all the time, or a security light not working correctly? Our service team is here to help.
Underground installations - We are here to take care of installing your underground electrical lines and all your other outdoor electrical needs. Whether you need a decorative light in your garden or increased security around your house, Hirt & Ellco is your friendly electric installation company in Southeast Indiana.
Electrical power upgrades - Is your home, officer, or farm electric still working off fuses? Are you thinking about adding more outlets, but your breaker box is out of space? Hirt and Ellco trained professional staff can install a more robust electrical system with a new breaker panel and overload correction.
Whole house residential generators and commercial back-up Generators - When utility power is interrupted, a back-up generator will power your business or home almost instantaneously. Don't wait until the next storm hits. Let Hirt & Ellco give you the peace of mind you need when it comes to your electricity.
Need other Hirt & Ellco Services?
Plumbing
 "If water runs through it,
we service it". 
Heating & Cooling
"Heating when you need it, cooling when you want it."
Parts & Supplies
"When Do-It-Yourself is your middle name, we are here for you."
At Hirt & Ellco, we proudly take care of our customers and strive for 100% satisfaction. One way we do this is to offer Free Estimates. To take advantage of this perk, please fill out the contact form to let us know what you need and one our customer service representatives will reach back out to you.
Keeping homes and businesses comfortable since 1971.